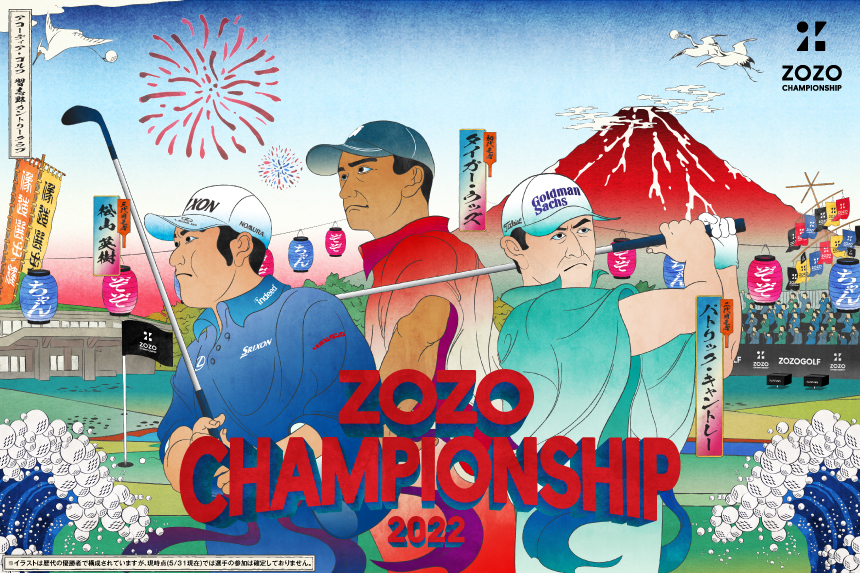 May 31, 2022
Press Release
PGA TOUR "ZOZO CHAMPIONSHIP" announces the 2022 Tournament will be held with spectators
~ Spreading the beauty of "Japan" to the world through the tournament ~
ZOZO, Inc. (headquartered in Chiba City, Chiba Prefecture, Representative Director, President & CEO: SAWADA Kotaro), which operates the fashion e-commerce ZOZOTOWN, and is also the title sponsor of the PGA TOUR tournament "ZOZO CHAMPIONSHIP" announced it will be holding its tournament with spectators on October 13th (Thu) ~ 16th (Sun) at ACCORDIA GOLF Narashino Country Club.
The tickets will be sold through Lawson Ticket, and details on ticket sales will be announced on the official ZOZO CHAMPIONSHIP tournament website in late-June.
*Please note that we may change our policy on whether or not to hold the tournament, including whether or not to allow spectators, depending on the opinions of the government and municipalities, as well as the status of COVID-19.
< This year's tournament background >
This year's "ZOZO CHAMPIONSHIP'' will have a total of 78 players, including the top players from the 2021-2022 FedExCup point list, the top eight players from the JGTO prize money ranking, the winner of the BMW Japan Golf Tour Championship Mori Building Cup, and nine sponsor-exempt players. Moreover, the video feed of the tournament will be broadcast in more than 200 countries and regions around the world. In Japan, the tournament will be broadcast on TV Asahi's terrestrial network, BS Asahi, and CS TV Asahi Channels. GOLFTV powered by PGA TOUR will provide coverage worldwide on its digital platform by broadcasting live and on demand. The total prize amount will be $11 M (approx. JPY 14B*) *128 yen by the dollar, and 500 FedExCup points will also be awarded to the winner. A portion of the proceeds earned through the tournament is planned to be donated to charity.
In the world of golf, many Japanese players such as Hideki Matsuyama, and young players like Keita Nakajima, are performing strongly on an international level. The ZOZO CHAMPIONSHIP, as the one and only PGA TOUR tournament held in Japan, aims to spread courage and inspiration to the world from Japan through golf. With this in mind, the ZOZO CHAMPIONSHIP, now in its fourth year, will be held under the concept of "Japan," a tournament unique to Japan.
The main visual created for this year's tournament is a uniquely Japanese visual depicting the champions of the past three tournaments, incorporating colorful expressions reminiscent of Nishiki-e, a type of Ukiyoe, and will be used on the official tournament poster. Just as Ukiyoe was the catalyst for the popularity of Japonism overseas and its influence on many painters, we hope that the ZOZO CHAMPIONSHIP will cross the oceans and spread the beauty of Japan and the excitement of golf throughout the world.
As the long-established and prestigious PGA TOUR "ZOZO CHAMPIONSHIP", we will continue to spread the power of the sport of golf, which is loved beyond generations, genders and nationalities, as well as working towards realizing our corporate philosophy, "Inspire the world. Deliver joy every day."
About ZOZO CHAMPIONSHIP
Tournament Name
ZOZO CHAMPIONSHIP
Tournament Venue
ACCORDIA GOLF Narashino Country Club
Date
October 13th (Thu) ~ 16th (Sun)
Format
72-hole stroke play with no qualifying cuts
Total Prize Money
Total : $11 M (approx. JPY 14B*) *128 yen by the dollar / 500 FedExCup points (Winner)
Host Organizers
ZOZO, Inc., PGA TOUR
Co-Organizer
Japan Golf Tour Organization (JGTO)
Joint Supervisors
PGA TOUR
Tournament Official HP
https://zozochampionship.com/en/
Tournament Official SNS
(Twitter) https://twitter.com/zozochamp
(Instagram) https://www.instagram.com/zozochamp
(Facebook) https://www.facebook.com/ZOZOCHAMPIONSHIP
(YouTube) https://www.youtube.com/channel/UCMGq1bJxbBxiPLnmQh3CMYQ
* We will keep you posted on the details of the tournament on our official website and SNS.
About PGA TOUR
Organization
PGA TOUR
Representative
Commissioner, Jay Monahan
Address
Ponte Vedra Beach, Florida, USA
By showcasing golf's greatest players, the PGA TOUR engages, inspires and positively impacts our fans, partners and communities worldwide. The PGA TOUR, headquartered in Ponte Vedra Beach, Florida, co-sanctions tournaments on the PGA TOUR, PGA TOUR Champions, Korn Ferry Tour, PGA TOUR Latinoamerica and PGA TOUR Canada. Members on the PGA TOUR represent the world's best players, hailing from 28 countries and territories outside the United States (90 international members). The PGA TOUR has long-term domestic distribution partnerships for broadcast coverage on CBS, NBC and Golf Channel and video streaming service on ESPN+. Internationally, PGA TOUR coverage is available across 200+ countries and territories in 27 languages via 43 local broadcast partners, in addition to the digital streaming service platform GOLFTV powered by PGA TOUR. Virtually all tournaments are organized as non-profit organizations to maximize charitable giving, and to date, tournaments across all Tours have generated more than $3.37 billion.
PDF
Release_En_ZOZO CHAMPIONSHIP2022_20220531
ZOZO, Inc.
Contact PR from here