Representative Director, President & CEO: SAWADA Kotaro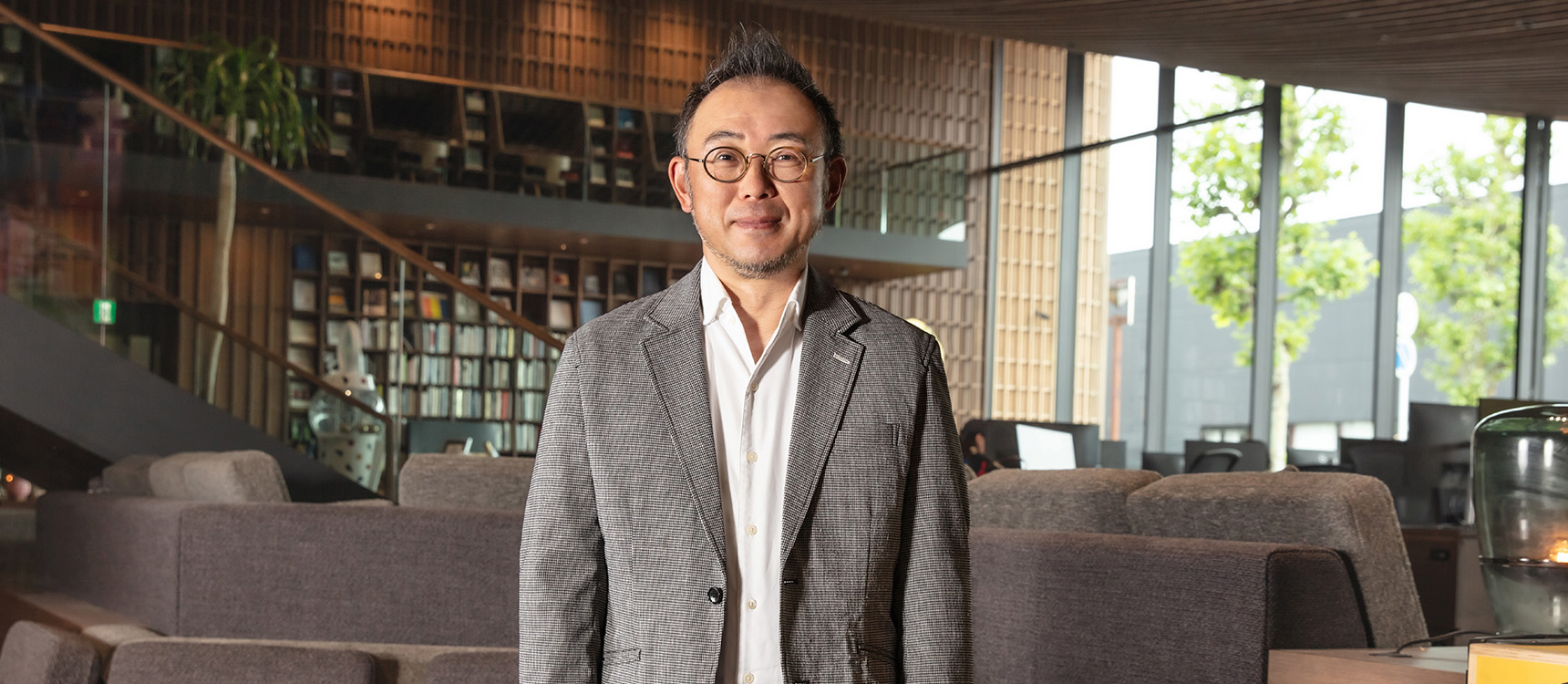 ZOZO Imagine and Is Creating a Sustainable Future.
We believe that we can realize our corporate philosophy of "Inspire the world. Deliver joy every day."
We provide "ZOZOTOWN" based on the concept of a town where "imagination" and "creativity" interact in times when buying and selling clothes online was not standard, and we have overturned common sense with our unique methods and technologies.
Today, people's lifestyles have changed dramatically as a result of the unprecedented calamity of Covid-19, and the fashion industry is undergoing transformation as well. Proprietary technology, vast amounts of data, and employees familiar with fashion are our strengths, and we will provide new services through those strengths to create a future in which everyone continues to smile.
Approach to Sustainability
We believe it is essential to work on sustainability in order to realize our corporate philosophy and achieve company's growth. The fashion industry is said to be the second-largest environmental polluting industry in this "world" where we hope to inspire, and fill with smiles as stated in our corporate philosophy. In addition, fashion is closely related not only to environmental issues, but also to the working environment and human rights issues, so it is very urgent and crucial to work on sustainability.
In 2020, we established SDGs Promotion Committee, which is composed of management teams, to discuss our policy and initiatives of sustainability on a frequent basis. We also conducted interviews with our business partners, shareholders and investors, local residents and employees, and held discussions over more than half a year, regarding the future that we and the fashion industry are to aim for. In April 2021 we have set a sustainability statement "Fashion Connects and Leads us to a Sustainable Future." and "Four Key Actions" based on those interviews and our business strategy, with the desire to value our relationships with all of our stakeholders as a platformer. We have begun making every effort to achieve these "Four Key Actions" by 2030.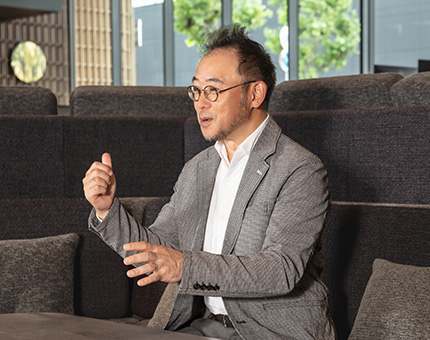 ESG Initiatives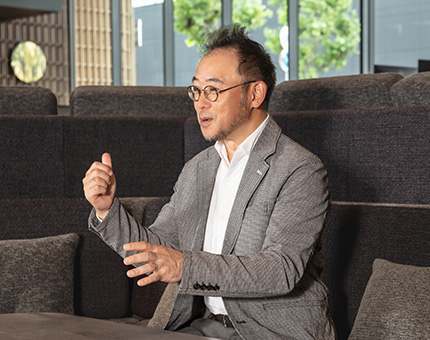 We are constantly aware of the soundness and transparency of our management. Our basic policy is to build smooth relationships with all stakeholders including shareholders, and we are also committed to sustainable improvement of corporate value. For this reason, we believe it is important not only to disclose appropriate and concise information on ESG, but also to strengthen governance.
In March 2022, we identified 19 materialities that are of great importance to both stakeholders and us as part of above efforts, with reference to the expectations of stakeholders and ESG evaluation items, through a repeat of discussions and considerations from the perspectives of the characteristics of our group and its contribution to growth.
Furthermore, we identified 10 of the key materialities from all 19 materialities. These key materialities are linked to the Four Key Actions, and include not only engagement with consumers and brands and climate change, but also strengthening security and human resource development in order to provide services as a platformer, where everyone feels safe to shop. In addition, we will establish KPIs and action plans by fiscal year 2023 to simultaneously achieve sustainable growth and fulfill our social responsibilities as a prime company.
"Diversity, Equity & Inclusion" is one of the key materialities, and we have been able to create innovative ideas through the combination of our diverse values and individuality.
Most importantly, fashion, our business, expresses individuality, and the services that deliver those products also need to match diverse values. In order to continue to provide pleasing services for customers of all ages and in any region, we will respect the individuality of our employees and create an environment together with our employees that enables them to work to the fullest extent at every stage of their lives.
Furthermore, in terms of promoting this "Diversity, Equity & Inclusion," we have great expectations for Christine Edman, who was appointed as our executive officer in December 2021. After serving as President of H&M Japan, she also served as President & CEO of Givenchy Japan and contributed to the company's growth. We believe that Edman's extensive experience in domestic and international and active involvement in "Diversity, Equity & Inclusion" measures, including support for women's empowerment and flat organizational development, will contribute to our growth. Due to these, she also assumed the position of Vice Chairperson of SDGs Promotion Committee.
In February 2022, we agreed to the TCFD (Task Force on Climate-related Financial Disclosures) as part of our environmental efforts, and announced the 2030 Carbon Neutral Declaration, which aims to reduce greenhouse gas emissions from our business activities to net-zero by fiscal 2030. We plan to continue introducing renewable energies to, focusing on our logistic centers, which emit large amounts of CO2.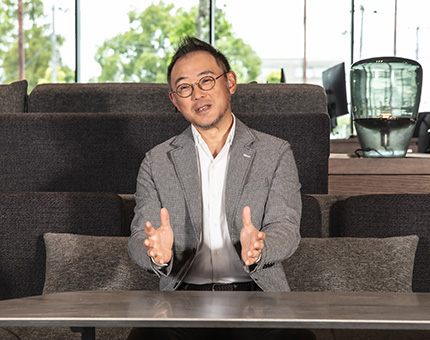 Direction of Growth Strategy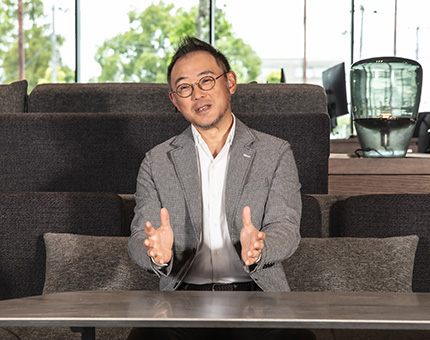 We have newly set our corporate philosophy "More Fashion × Better Fashion Tech - Explore your style. Make you delighted. -" and we will strengthen the 3 pillars of the strategy to accelerate the growth of our business. By promoting these strategies, we aim to address the issues in the fashion industry and the development of the latest technologies to boost the whole industry itself.
First, in order to achieve the first of the 3 pillars of the strategy, which is to "Increase traffic from other than 'BUY' " we will expand our duties as a new fashion platformer so that we will recall that we are not only the place "to buy" fashion, but also the place "for" fashion. ZOZOMO and FAANS services launched in November 2021 are part of this effort. We will gain widespread recognition that looking at ZOZOTOWN every day can always be interesting. In the future, we will not only distribute information about fashion to customers, but will also build a mechanism to deliver "style" to each customer by making full use of data and technology. We believe that these initiatives will not only increase "Consumer Engagement," which is included in the materiality, but also contribute to promoting diversity, equity and inclusion, which enables everyone to enjoy diverse fashion beyond the boundaries of men's and women's.
We also plan to work on upstream processes in the fashion supply chain, such as design and planning, in the "Production Support," which is the second of the 3 pillars of the strategy. At the sewing plant of YOUR BRAND PROJECT, which is our support measure for D2C-brands, we have also developed a DX mechanism originally, and are already partially introducing it to the plant.We intend to provide these technologies to brands as well, thereby contributing to the reduction of "mass production and waste loss," which is an issue in the fashion industry. We will also address the issues of "Supplier Engagement," "Apparel Waste & Recycling," "Climate Change," and human rights, which are also identified as materiality.
Until now, we have developed a number of measurement technologies to lower the hurdle of "unable to try on" when users buy clothes and cosmetics online. The measurement technologies include ZOZOSUIT, a body measurement suit that released in 2017, and ZOZOSUIT (ZOZOSUIT 2,) a 3D body measurement suit afterward, as well as ZOZOMAT, ZOZOGLASS, and ZOZOMAT for Hands. In the "Technology Licensing Sales," which is the third of the 3 pillars of the strategy, we will commence this summer in the United States to provide ZOZOFIT, a body management service that leverages ZOZOSUIT's measurement technologies, following ZOZOMAT for Hands that we released 2021 in Japan. ZOZOFIT is a service that enables us to generate a precise body 3D model speedily at home. In the future, we plan to incorporate overall body metrics, such as heart rate and exercise intensity, and work on developing such simulation algorithms generated from these data. In addition, by accumulating physical metrics information and improvement needs from users, we will be able to recommend related services and products tailored to each customer. Through these initiatives, we will steadily execute materiality such as "Consumer Engagement" and "Supplier Engagement."
To Our Stakeholders
We are committed to creating an unprecedented world of innovative fashion by connecting fashion , tech and people through our mindset "Imagine the unexpected. Chart the unexplored." that has remained unchanged since our foundation. We will also boldly challenge social and environmental issues, and work to solve global issues through innovative ways with you.
Director, Executive Vice President & CFO: YANAGISAWA Koji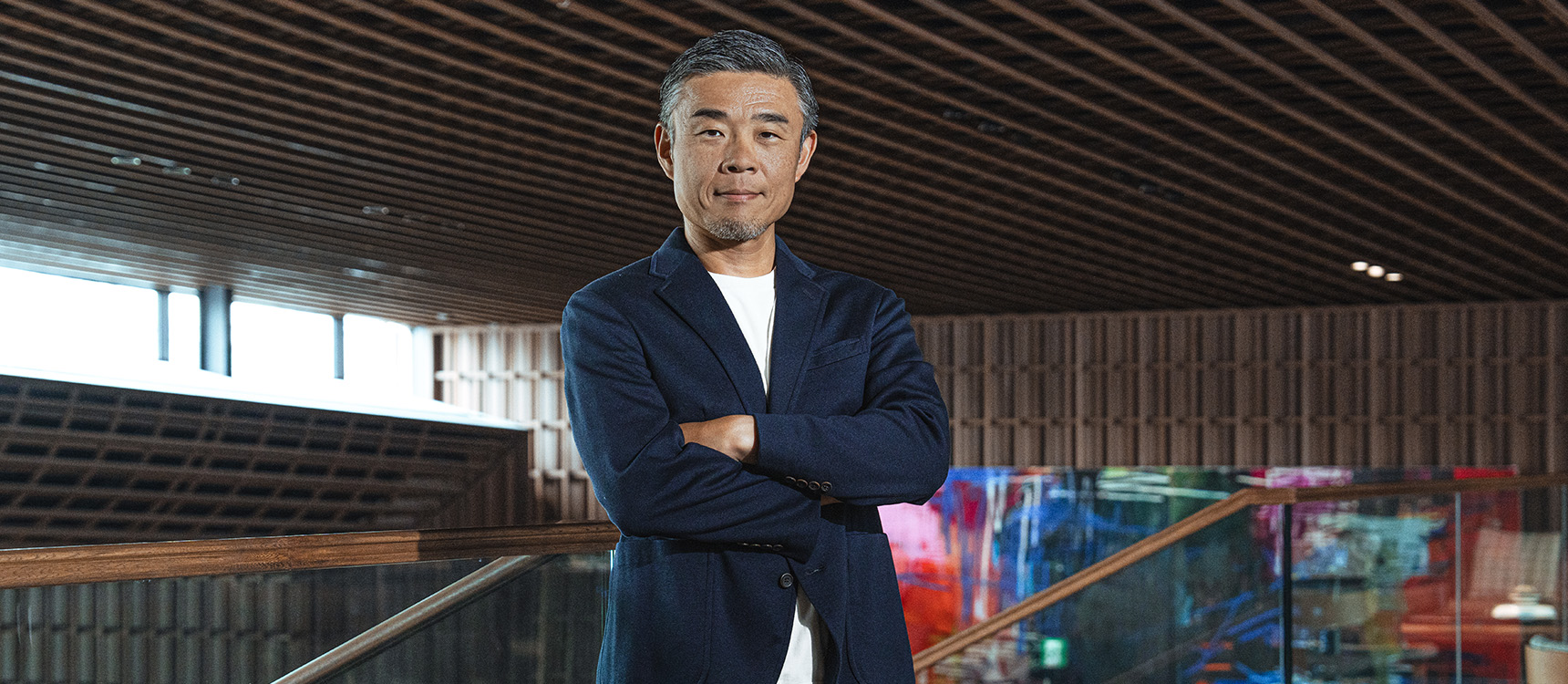 Stance as CFO/ Approach to Sustainability
In recent years, the importance of ESG management has been emphasized with both financial and non-financial perspectives. We are working to ensure transparency by actively disclosing information that takes into account both of those aspects. In terms of management that is expected of a company listed on the prime section of Tokyo Stock Exchange, I believe it is important to proactively address the issues of sustainability and the fashion industry.
Results and Review of Operations in Fiscal 2021
In 2021, the number of annual buyers of the fashion e-commerce "ZOZOTOWN" exceeded 10 million for the first time, and the gross merchandise value (up 13.3% year on year) and operating profit (up 12.5% year on year) reached record highs. The main factors behind this were the aggressive provision of products by brands, and promotions that combine television, online and social medias.
ZOZOCOSME, a specialty cosmetics mall opened within ZOZOTOWN in the same year, is also performing well. ZOZOGLASS, a skin tone capturing device launched on the same day as ZOZOCOSME's opening, has been tried by over 1.2 million people as of the end of May 2022,and is helping to boost cosmetics purchases.
In addition, "ZOZOTOWN PayPay Mall Store" opened in December 2019 within PayPay Mall, an online shopping mall, is also very steady. We have acquired new customers that differ from ZOZOTOWN and are creating group synergies as Z Holdings Group.
In terms of cost reductions, we reviewed the work efficiency at the logistics centers "ZOZOBASE," and reduced costs by 0.3 points in logistics-related personnel expenses associated (ratio of cost to Gross Merchandise Value) with the e-commerce business year-on-year. These and other efficiency measures have been effective.
In addition, we launched new initiatives as a fashion-tech company, such as "FAANS" a salessupporting tool for staff at brands' physical stores, and "ZOZOMO," which enables customers to reserve in-store inventory within ZOZOTOWN. We also gained new business tips and know-how from brick-and-mortar communications, such as the first exhibition of ZOZO NEXT from Group companies at SXSW 2022 held in Texas, U.S.A.
Direction of Fiscal 2022
We aim for double-digit growth in gross merchandise value, through the 3 pillars of the strategy , and "More Fashion × Better Fashion Tech - Explore your style. Make you delighted. -" which we have set for our strategy continuously in the current fiscal year.
More Fashion × Better Fashion Tech
- Explore your style. Make you delighted. -
We aim to achieve a gross merchandise value of 479.8 billion yen (+10.2%) for ZOZOTOWN and ZOZOTOWN PayPay mall stores. In addition, this summer we added a flea market function that customers can easily list and buy fashion items directly on "WEAR" app, a fashion coordination. This function is also an important initiative in sustainability that creates opportunities for secondary distribution, and we believe that it will add significant value.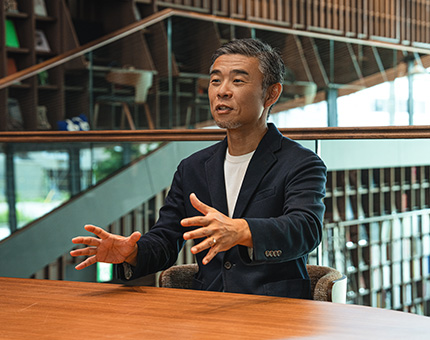 3 pillars of the strategy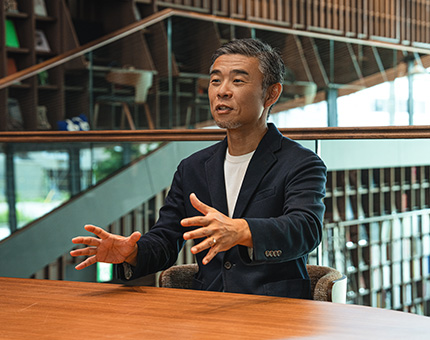 Aiming to multiply profit drivers and build a diverse profit structure, we have established the "3 pillars of the strategy" as our mid-term management strategy.
The first pillar of the strategy is to "increase traffic from other than 'BUY,'" We are steadily preparing services that combine fashion and technology. Until now, we have made every effort to be a platformer that delivers good products to customers through ZOZOTOWN. However going forward, we will aim to evolve ZOZO to the place "for" fashion, from the place "to buy"fashion. The key word to reach this goal is "style." We own many users' data of body-type, purchase histories, and their favorite products. By leveraging these big data and our proprietary technology, we are planning to explore "style" solutions that delight users.
Next, in the second pillar of the strategy "Step into the 'Production Support'," we will leverage the demand analysis and production bases that we have cultivated through operation of Private Brand and MSP (multi-size platforms), to create a made-to-order platform for zero waste. Our calculations indicate that if we utilize our production base to made-to-order production, we could keep production volumes down by approximately 30% compared to normal projected production volumes. By providing this platform to brands, we hope to contribute to reduction of over production and waste loss, and to resolve industry-wide issues. We are already working with several apparel brands, and we plan to provide a variety of services and solutions throughout the fashion industry, from upstream to downstream.
The third pillar of the strategy, "Try 'Technology Licensing Sales','' will begin offering a body management service "ZOZOFIT" in the U.S. that utilizes ZOZOSUIT, a 3D body measurement suit. ZOZOFIT can record datas of body-type measurement and 3D body model in a dedicated app, allowing you to easily accumulate high-precision data on your body at home. This helps you maintain an enjoyable and efficient workout without overlooking even small changes. First, we will launch it in the United States, which has a large fitness market, repeatedly examining it, and then potentially consider providing it in Japan. In this way, we will explore the possibilities of providing technologies not only in fashion but also in a wide range of fields.
Growth Investment
In fiscal 2022, we will make capital expenditures on the scale of 10 billion JPY. We plan to invest mainly in logistics centers, and plan to introduce the latest automation facilities to ZOZOBASE Tsukuba 3, which is scheduled to begin operations in August 2023. We will also continue to invest in initiatives of "Production Support," which are commonly set out in the 3 pillars of the strategy and the Four Key Actions of Sustainability. Taking this "Production Support" as an opportunity to start with, we will continue to seek ways of serving society and stakeholders with positive effects while addressing various issues in the fashion industry.
In addition, we plan to hire and increase the number of engineers in order to improve development speed and incorporate new technologies. We will also focus on human resource development and education, leveraging the advantages of being a company of the Z Holdings Group, and actively sharing engineers' resources and knowledge.
To enhance capital efficiency
We believe that generating profits in excess of the capital cost leads to an increase in corporate value. Therefore, we use Return on Equity (ROE) as a management indicator and strive for highly capital-efficient management. Our goal is to maintain a minimum ROE of 20%, taking into account the level of global companies similar to ours.
In fiscal 2021, ROE was 62.5% (68.8% in the same period of the previous fiscal year), continuing to maintain a high level as in the previous fiscal year, and significantly exceeding the target value.
Policy of returning profits to shareholders
Our basic management policy is to strike a balance with retained earnings by comprehensively assessing trends in business performance, financial condition, and future business and investment plans. We also place emphasis on returning profits to shareholders, and will continue aiming for efficient management of capital with a target dividend payout ratio of 50%. In the fiscal year ended on 31st March, 2022, we paid a shareholder dividend of 58 JPY per share. Going forward, we will continue aiming to increase corporate value with the aim of achieving both aggressive strategic investment and shareholder returns.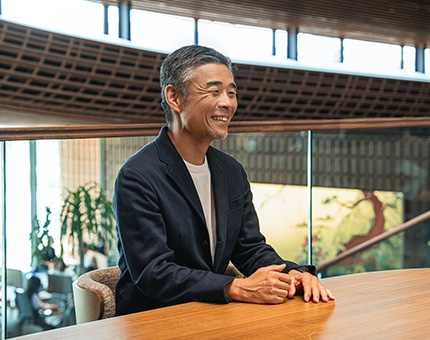 Sustainability and ESG Initiatives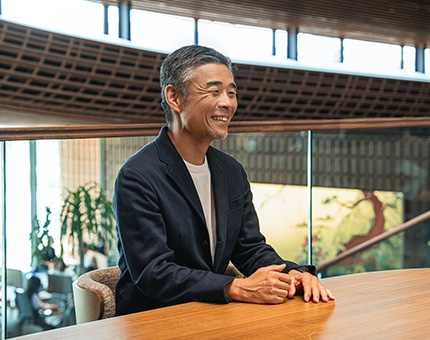 We identified materiality in April 2022. As I have mentioned above, ESG initiatives are indispensable in order for us to grow in the future and to create a future of fashion together with our users, brands, and stakeholders. In particular, we consider the importance of governance to be one that all employees should be aware of, and we have made every effort to build an organization that prevents management risks.
In particular, it is a crucial responsibility to properly protect and safely handle information assets entrusted to us by our customers and business partners. In July 2021, we acquired ISMS (information security management systems) certification based on international standards. We will continue to strive to continuously operate and improve our information security management system so that we can respond to the trust of all stakeholders and use our services with greater peace of mind.
In addition, as a company listed on the prime section of Tokyo Stock Exchange, we place importance on tackling climate change. In February 2022, we announced the "2030 Carbon Neutrality Declaration" in the agreement to TCFD (Task Force on Climate-related Financial Disclosures). We had set an interim target of achieving 80% carbon neutral covered by Scope 1 and 2 by 2025, but we expect to accelerate and be able to reach the target of achieving 80% by the end of fiscal year 2022. Toward the achievement of carbon neutrality in 2030, we will further advance our efforts to decarbonize.
As a new initiative for fiscal year 2022, we will also work to build a human rights due diligence system to deter the burden of human rights infringement. We will check potential human rights risks not only in the supply chain, but also within the company, and give consideration to the human rights of all people involved in our business.
We will continue to strengthen our existing businesses and invest aggressively in opportunities for new growth, with the aim of our corporate philosophy of "Inspire the world. Deliver joy every day."