October 28, 2021
Press Release
ZOZOMAT for Hands, a measurement tool enabling at-home 3D hand scanning, will be distributed for a limited time by BVLGARI beginning November 9th.
~ The debut partnership licensing ZOZO's proprietary measurement technology ~
ZOZO Inc. (headquartered in Chiba City, Chiba Prefecture, Representative Director, President & CEO: Kotaro Sawada), which operates the online fashion retail website ZOZOTOWN, announces the launch of ZOZOMAT for Hands, a printed mat that enables customers to easily scan and measure their hand in 3D at home using their smartphone camera. Bulgari Japan (headquartered in Chuo-ku, Tokyo, President: Walter Bolognino) will distribute this technology to its customers starting 9th November. This is the first case of the licensing of ZOZO's measurement technology. BVLGARI will accept orders for the ZOZOMAT for Hands, to be distributed for free, for a 10 day period. Customers may request a ZOZOMAT for Hands by calling Bulgari Japan Customer Service as of 9th November.
<Features of ZOZOMAT for Hands>
Customers place their hand on the ZOZOMAT for Hands and use their smartphone camera to scan their hand in 3D. The ZOZOMAT measurement technology has been modified; its algorithm is designed specifically for measuring hands.
The scanning process is supported by an audio interface, which is accessed by scanning the 2D code printed on ZOZOMAT for Hands. It gently guides the user through the scanning process. Once the scan is complete, an interactive 3D model of the hand, accompanied by suggested ring sizes will appear. This technology has been developed completely in-house (by the ZOZO group) and rivals the performance and accuracy of dedicated 3D laser scanners. It allows customers to easily scan their hands at home. ZOZOMAT for Hands assists customers with choosing their best fit when buying rings, bracelets and other accessories online.
ZOZO aims to license and distribute its ZOZOMAT for Hands measurement technology globally as well.
<Background of Bulgari Japan decision to introduce>
We are proud to announce that Bulgari Japan has made their decision to use the measurement technology of ZOZOMAT for Hands.
Bvlgari Online store offers a 30-day free return and exchange policy on all products (apart from personalized products) to make the customers shopping experience more worry-free. Also, in order to support the customers to find a ring that fits their size, Bvlgari Online store has a ring size guide page that tells how to measure finger size. On top of these services, they have decided to introduce "ZOZOMAT for Hands" so that customers can buy rings with more confidence.
We believe ZOZOMAT for Hands will make online shopping more comfortable and smoother.
In addition, measuring the size of their own hand before visiting the stores, allows not only customers to understand the size of their hand but also us to be able to provide a new shopping experience in a relaxed atmosphere.
~ Comments from Walter Bolognino, President of Bulgari Japan ~
Finding the best fit of rings has always been an obstacle when shopping online and we have taken into account incorporating measuring tools, as we had constantly received inquiries regarding how to properly measure their fingers.
We were looking into multiple measurement technologies all over the world but ZOZOMAT for Hands is prominently handy yet precise, and we had no choice but to work with it.
In order to have ZOZOMAT for Hands in our service, we also worked on this and discussed internally with our employees to address the issues and examined it over and over, to ensure accuracy. We are excited to send everyone new opportunities to appreciate and get to know more about the heritage and aesthetic of BVLGARI, with ZOZOMAT for Hands.
~ Comments from SAWADA Kotaro, Representative Director, President & CEO ~
We are very honored to have BVLGARI as the very first case of offering our technology licensing. We have been solving the issues and hurdles of online shopping that we face at ZOZOTOWN with the power of measurement technologies like the ZOZOSUIT and ZOZOMAT, which help our customers to find their best fit without trying anything on.
We came up with the idea to make buying rings online easier and developed ZOZOMAT for Hands by utilizing the technology of ZOZOMAT. This new technology enables customers to measure their hands just like they do with their feet with ZOZOMAT. Through the entire development process, we faced some difficulties measuring hands; for instance, the width of fingers must be measured in different places depending on the position of the hand. We could not have arrived at this point without the support of Bulgari Japan who genuinely communicates with their customers on a daily basis and has a thorough knowledge of ring fit. We are beyond excited to deliver a new shopping experience with ZOZOMAT for Hands.
About the ZOZOMAT for Hands
The ZOZOMAT for Hands is a printed mat that will allow customers to easily scan their hand at home using their smartphone camera, solving the struggles of choosing the best fit when buying rings online. Once the scan is complete, made possible by placing a hand on the mat and scanning the hand, it will generate an interactive 3D model of the hand with measurements of each finger (excluding the thumb).
Name
ZOZOMAT for Hands
Measurement Parts
fingers (excluding the thumb)
<About the launch of ZOZOMAT for Hands with Bulgari Japan>
Price
Free (shipping included)
Order Period
Starting from 10:00 Nov. 9th, 2021 to 18:00 Nov. 18th, 2021 (*)
Estimated Distribution Period
Approximately a week from when the order is accepted
ZOZOMAT for Hands order
Customer Service Inbound(03-6362-0100)
Amounts of the first distribution
300 mats
(*) The measurement service will be supported continuously, even after the distribution period of ZOZOMAT for Hands is over.
content is subject to change without notice.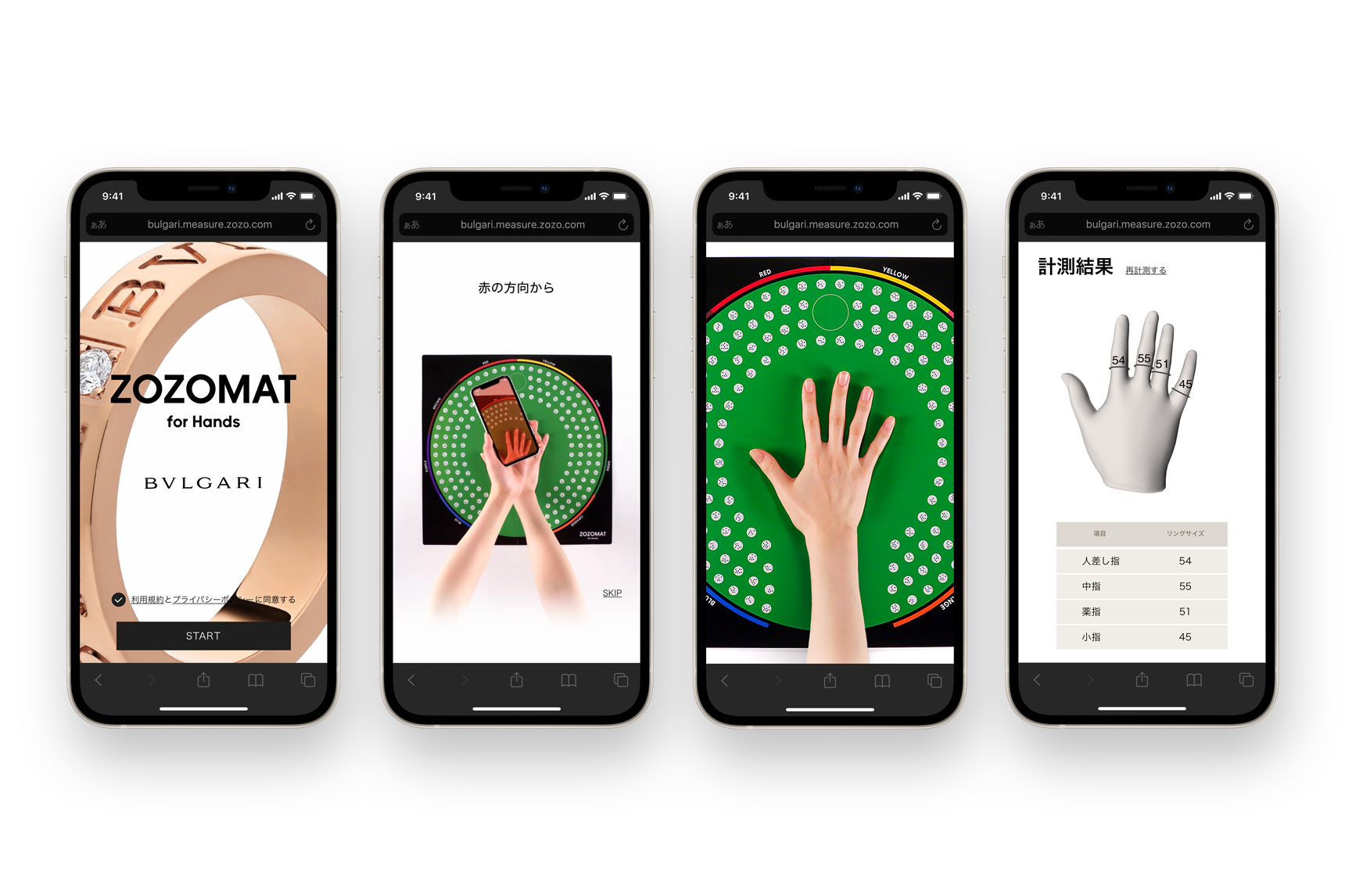 ABOUT BVLGARI
Part of the LVMH Group, Bvlgari was founded in 1884 as a jewellery shop in Rome. Quickly establishing a reputation for Italian excellence, Bvlgari became known for its exquisite craftsmanship and magnificent jewellery creations. The brand's international success has evolved it into a global and diversified luxury purveyor of products and services ranging from fine jewels and watches to accessories and perfumes, with an extraordinary network of boutiques and hotels in the world's most exclusive shopping areas.
PDF
Release_En_ZOZOMATforHands_20211028
ZOZO Inc.
Contact PR from here