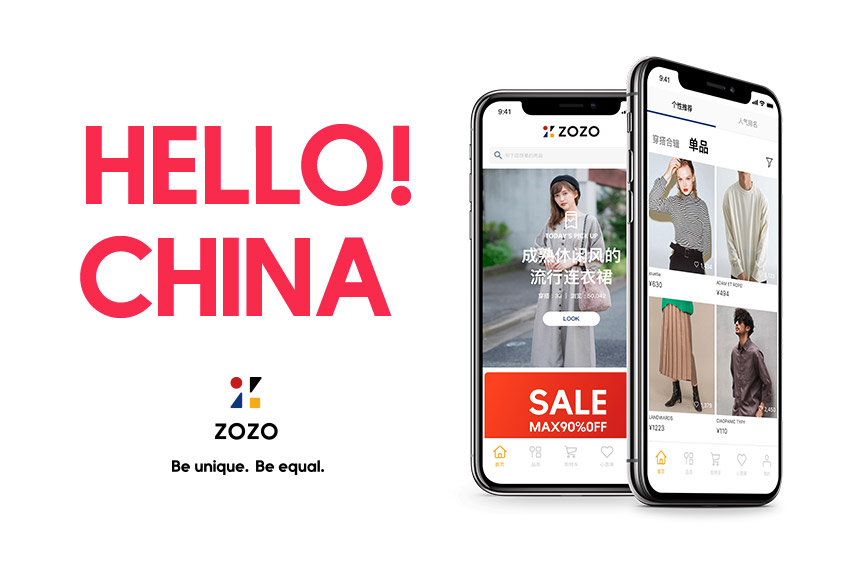 December 10, 2019
Press Release
ZOZO,Inc. launches the Chinese version of ZOZOTOWN "ZOZO" from today
~177 shops such as ADAM ET ROPE', CIAOPANIC and L.H.P are open to Chinese market ~
ZOZO, Inc. (headquartered in Chiba City, Chiba Prefecture, Representative Director and President & CEO: Kotaro Sawada), which operates the online fashion website "ZOZOTOWN", started offering the Chinese version of ZOZOTOWN "ZOZO" on Dec. 10th (Tuesday), 2019. A total of 177 shops such as ADAM ET ROPE', CIAOPANIC and L.H.P from ZOZOTOWN will be opened now and added in the future. "ZOZO" not only sells products, but also as "Fashion Media EC", shows the appeal of products through spreading coordination information and Japanese fashion culture.
We established a local subsidiary "Shanghai ZOZO Co., Ltd." in China, supporting all the work necessary for sales in China, including but not limited to media editing and translation, a series of fulfillment operations for delivery and customs clearance from Japan to China and customer support operations etc. Our supporting system will enable shops to enjoy rapid expansion to China without additional costs.
ZOZOTOWN launched EC site in China in Oct. 2011, but it was closed in Jan. 2013. About 7 years later, the current fashion retail market in China has grown tremendously. And the annual fashion consumption per person has quadrupled as compared to that of the time (2012). In recent years, there are many articles introducing Japanese fashion culture in mass media, and it can be seen that Chinese consumers are increasingly interested in Japanese fashion culture.
While aiming to grow the sales market of ZOZOTOWN stores and promote brand recognition and sales in China, we will strive to promote the attraction of Japanese fashion culture globally.
The main features of the Chinese version of ZOZOTOWN "ZOZO" are as follows.
Main features of the Chinese version of ZOZOTOWN "ZOZO"
"Fashion media EC site" that not only sells products but also spreads the charm of Japanese fashion culture
Leveraging the functions of the fashion coordination app "WEAR" operated by ZOZO group, we will share out fashion information such as users' coordination posts, trendy store news, fashion tips, and other items that have been accumulated on WEAR. By introducing Japanese fashion culture and how to enjoy fashion, it will lead to the purchase of products.
Spreading world view of the shops and brands
Instead of opening new stores on existing EC platform, we chose to operate "ZOZOTOWN" by ourselves. It makes it possible to spread the world view of the participating shops and brands while maintaining the degree of freedom of the UI/UX.
Products will be shipped from Japan "ZOZOBASE" to China
Participating shops can expand the sales market with the same sales commission as when opened on ZOZOTOWN in Japan. Moreover, product inventory is managed at the domestic distribution center "ZOZOBASE", and products ordered from China will be sent directly from ZOZOBASE.
Support for opening stores in China
By clearing the requirements stipulated in a series of laws and policies of cross-border EC, the entry barriers which burden store openings are eliminated. We will support sales in China by introducing major payment methods in China, developing systems such as API and supporting trademark registration.
About Chinese version of ZOZOTOWN, "ZOZO"
Service Name
ZOZO
Service Start Date 
Dec. 10th (Tuesday), 2019
Available Area
Mainland China
Store opening
ADAM ET ROPE', BANNER BARRETT, B'2nd, CIAOPANIC, COLONY 2139, DELYLE, FRAPBOIS, GALLARDAGALANTE, JUNRed, LANDWARDS, L.H.P, OLIVE des OLIVE, PAPILLONNER, Ray Cassin, ROPE', ROPE' PICNIC, RASVOA, ViS etc.
Official website of Chinese version of ZOZOTOWN, "ZOZO"
About Chinese subsidiary
Corporate Name
上海走走信息科技有限公司  (Shanghai ZOZO Co., Ltd)
Established
Feb. 19th, 2019
General Manager
Yan Shengri
Location
No. 166-T2, 2603, Minhong Rd., Minhang District, Shanghai
ZOZO, Inc.
Contact PR from here