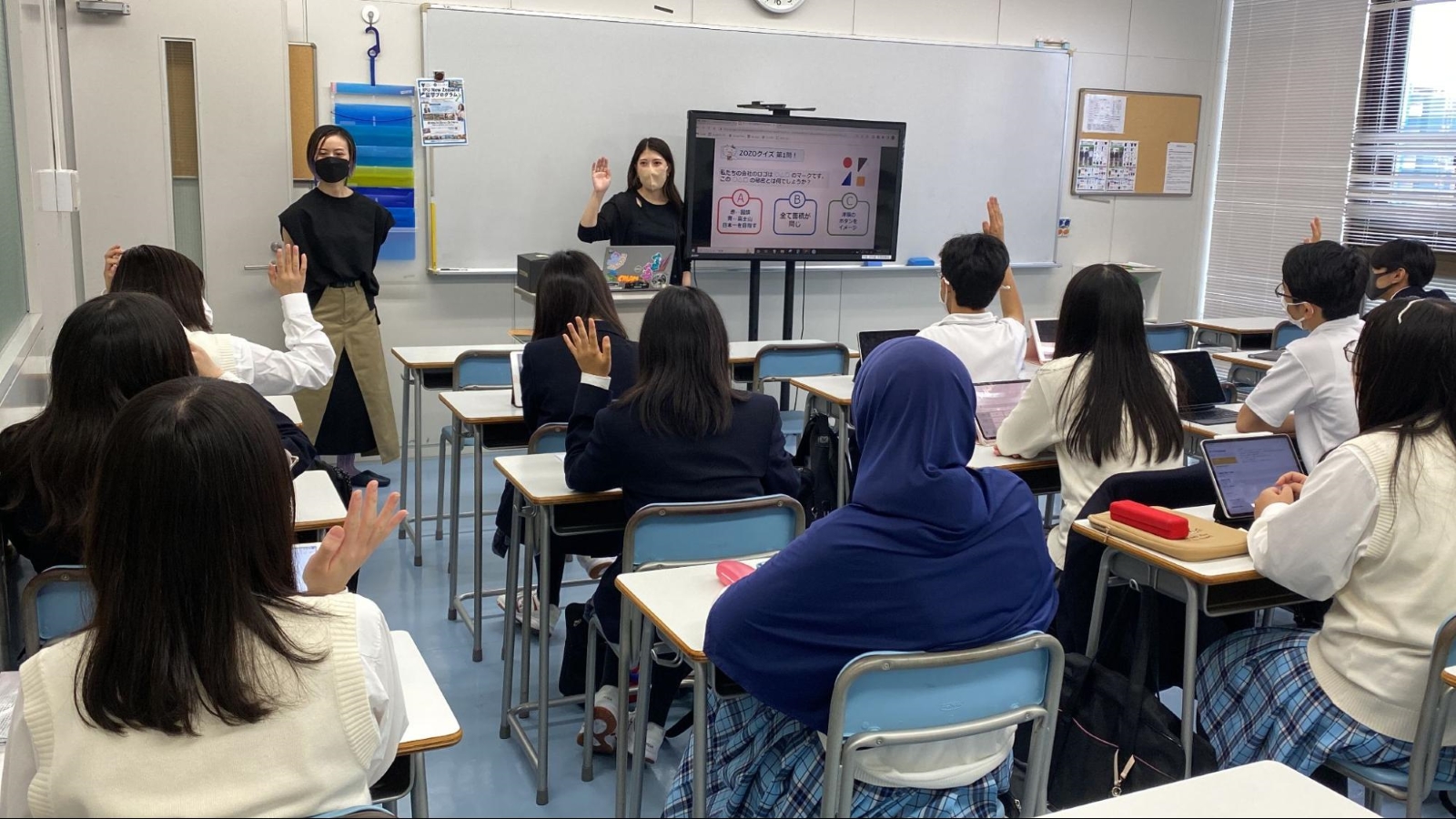 February 28, 2023
Implementation of Outreach Programs in Local Elementary, Middle, and High Schools: Supporting Career Education

With our corporate philosophy of "Inspire the world. Deliver joy every day.", we have taken various initiatives including providing On-Demand-Delivery Class and career education support, by having our employees serve as instructors.Between July 2022 and February 2023, we have conducted On-Demand-Delivery Classes at 27 schools located near our bases.

In these classes, employees from our Friendship Management Department, which is responsible for career education and next-generation support, have explained the workings of ZOZOTOWN services and our corporate philosophy. We also conducted quizzes related to ZOZO's corporate logo concept, "Be unique. Be equal," and workshops for the students to think about what they want to work for in the future.

The students who participated shared feedback such as: "Usually I can't speak up, but I was happy that everyone agreed with my opinion, so I want to express myself more from now on," "The instructors taught the class with such joy and smiles that I am really looking forward to becoming an adult," and "We want to continue to be a class that values uniqueness and individuality."

We will continue to support the youth who will be responsible for our future through various initiatives, including career education support.


Implementation Dates
Chiba Municipal Kashiwadai Elementary School : July 5, 2022 (Tuesday)
Chiba Municipal Inahama Junior High School :July 11, 2022 (Monday)
Gunma Prefectural Ota High School :August 24, 2022 (Wednesday)
Chiba Municipal Satsukigaoka Nishi Elementary School :September 8, 2022 (Thursday)
Chiba Municipal Honda Junior High School :September 9, 2022 (Friday)
Chiba Municipal Saiwaicho Daiichi Junior High School :Wednesday, September 21, 2022
Chiba Municipal Takasu Daiyon Elementary School : Wednesday, September 28, 2022
Chiba Municipal Takahama Junior High School : Monday, October 3, 2022
Clark Memorial International High School : October 5, 2022 (Wednesday)
Chiba Municipal Oji Elementary School : Friday, October 21, 2022
Chiba Municipal Takahama Daiichi Elementary School :October 24, 2022 (Monday)
Chiba Municipal Ayamedai Elementary School : Wednesday, October 26, 2022
Chiba Municipal Nobuto Elementary School : Friday, October 28, 2022
Chiba Municipal Midorigaoka Junior High School : November 10, 2022 (Thursday)
Chiba Municipal Chigusadai Elementary School :November 11, 2022 (Friday)
Chiba Municipal Kemigawa Elementary School :November 17, 2022 (Thursday)
Chiba Municipal Isobe Junior High School :November 18, 2022 (Friday)
Chiba Municipal Yokodo Elementary School :November 24, 2022 (Thursday)
Chiba Municipal Chishirodai Mirai Elementary School : November 30, 2022 (Wednesday)
Chiba Municipal Midorimachi Junior High School : Thursday, December 1, 2022
Chiba Municipal Makuhari Junior High School : December 5, 2022 (Monday)
Narita Municipal Azuma Junior High School : Friday, December 9, 2022
Chiba Municipal Ariyoshi Junior High School :December 14, 2022 (Wednesday)
Chiba Municipal Ogida Elementary School :December 16, 2022 (Friday)
Chiba Municipal Takasu Elementary School :January 11, 2023 (Wed.)
Chiba Municipal Oji Junior High School :February 9, 2023 (Thursday)
Chiba Keizai University High School :February 21, 2023 (Tuesday)