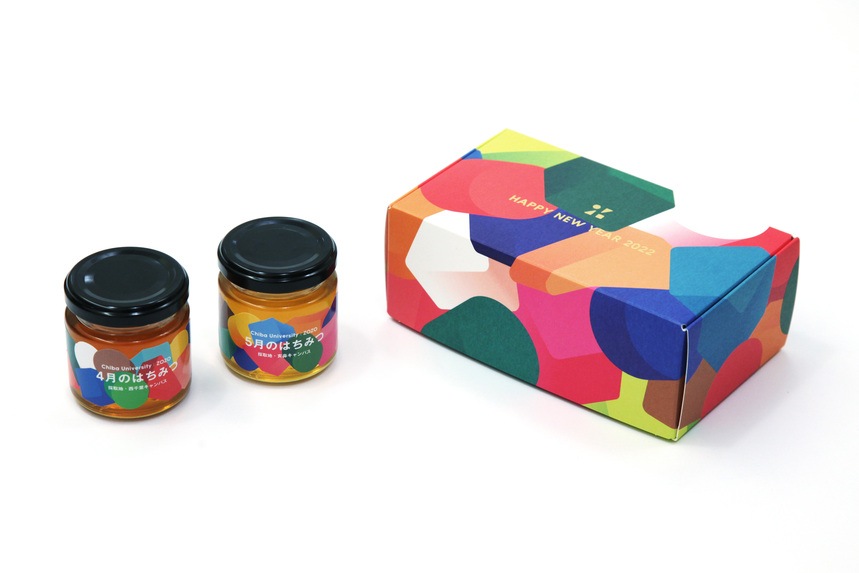 January 1, 2022
Nishi-Chiba-Made Honey for 2022 New Year's Greetings
We give our business partners and employees New Year's greetings every year. We plan and produce an original package that incorporates the company's aspirations for each time. This year, as in the case of ZOZO head office, we cooperated with Chiba University, a national university corporation with a campus in Nishi-Chiba, to produce a gift set of honey collected within the university.
Last year, the outbreak of the Covid-19 continued, and there was a year in need of social Distance. This year, however, we hope to build a "close" relationship with you, and we have planned the Honey Gift Set as our 2022 New Year's greetings. The packaging also has a colorful design with dense ZOZO logos: rounds, triangles, and squares.
Chiba University installed beekeeping boxes on the roof of the Nishi-Chiba Campus as an urban beekeeping research, and began beekeeping in March 2018. Honey has a variety of tastes depending on the timing of collection, as the source plants differ depending on when honey is collected. In this New Year's New Year's greenery, we have also donated two types of honey bottles with different collection dates.
Employees were also given stick-type honey. Face-to-face affairs continue to be difficult to do on a daily basis due to the Corona crisis, but even in such a situation, this year we distributed the message "Work Enjoyable" with the "Enjoy and Enrich."
We will continue to contribute to the revitalization of local communities and the realization of sustainable communities while deepening exchanges with local residents.
Date of Implementation
Saturday, January 1, 2022