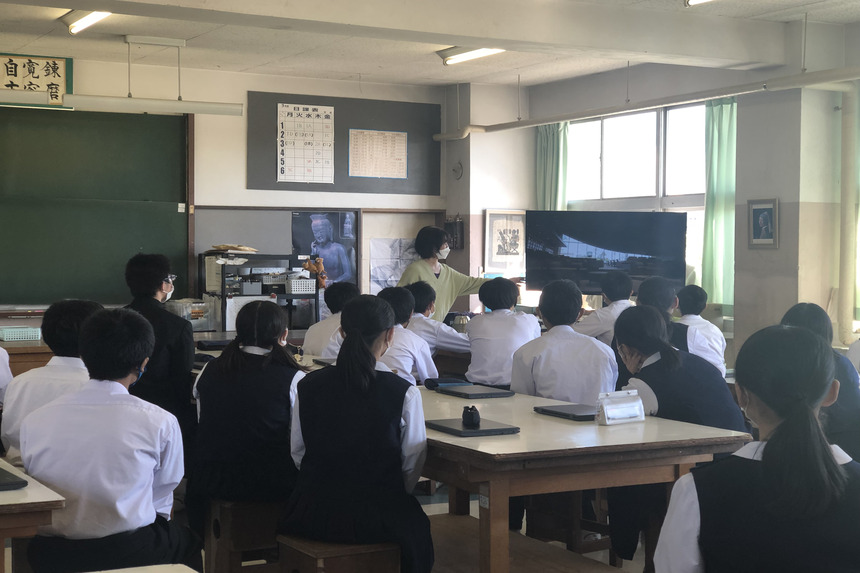 November 10, 2021
Lecture on the subject of our company building at a junior high school in Chiba City
To realize our corporate philosophy of "Inspire the world. Deliver joy every day," our employees serve as instructors and give lectures at schools in Chiba City. We recently received a request from the Chiba city Midorimachi Junior High School that "we would like to hold an art class on the themes of the head office in ZOZO." We conducted a class for 30 second-year students.
On the day of the class, the students first asked a group to think about what the meaning was put into the making of the exterior and interior of the head office building and what they found interesting. Subsequently, the students announced what they felt from the designs of various head offices, such as "I feel a soft impression based on nature (tree)" and "The height of the eyes both outside and inside the building is interesting." In addition, after receiving the announcement, our employees explained the idea that we had incorporated into the design of our head office, such as the history of relocating our head office to Nishi-Chiba and the reason why we have made the office open from the street.
The students who attended the class commented, "I thought that pursuing both practicality and artistic aspects in this class would give us value as a building," and "I thought that inside the well-thought-out office seemed comfortable."
In the future, we will continue to work with local schools and local residents to enliven the Nishi-Chiba area through various initiatives, on-demand-delivery classes.
Date of Implementation
Wednesday, November 10, 2021