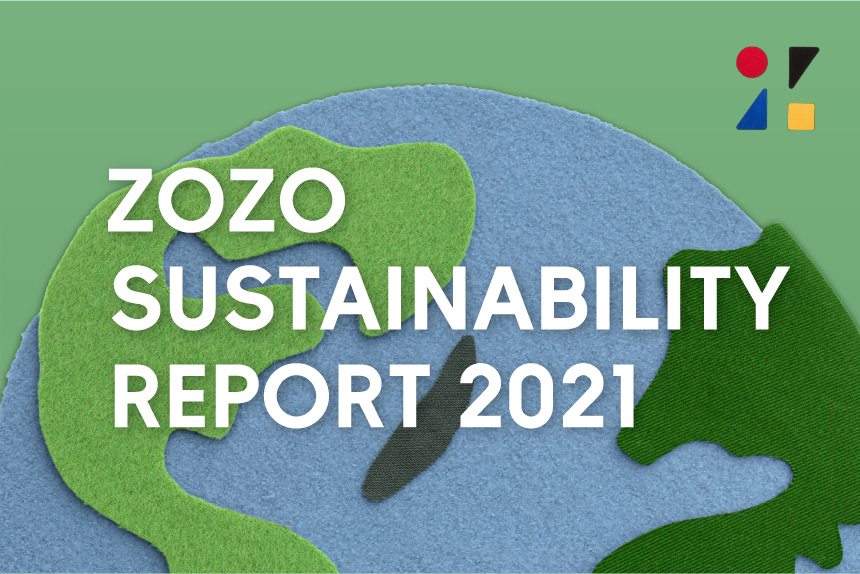 October 28, 2021
Publication of Our First Sustainability Report
We issued our first sustainability report  "ZOZO SUSTAINABILITY REPORT 2021" in October 2021. The report introduces the message from the top management and our approach to sustainability and ESG/CSR, as well as activities, work styles, and benefits based on this approach to resolve various environmental and social issues in fiscal 2021. We intend to use this report as a communication tool for constructive dialogue with our stakeholders and expand the circle for creating a new fashion world that improves the environment and society.
We aim to "We are committed to solving the challenges our planet faces by connecting people, technology and fashion in new ways." We have received the cooperation of various stakeholders in preparing this report as well. The report also includes comments from external partners and the mayor of Chiba who support and cooperate with our corporate stance on a daily basis as well as the aspirations of employees of each business division to implement the "Sustainability Key Actions" through their work. In addition, the cover arts of each item in the report are ZOZOUSED business, which handles branded second hand clothes, and the original designs by our designers, which utilize waste fabric generated at partner plants. The warm texture of the cloth reflects our desire to continue a world where people can enjoy fashion.
We will continue to engage in sustainable initiatives and disseminate information for a better future, with the aim of realizing "Fashion Connects and Leads us to a Sustainable Future." as stated in our sustainability statement.
Issuance Date
October 28, 2021 (Thursday)
Related Links