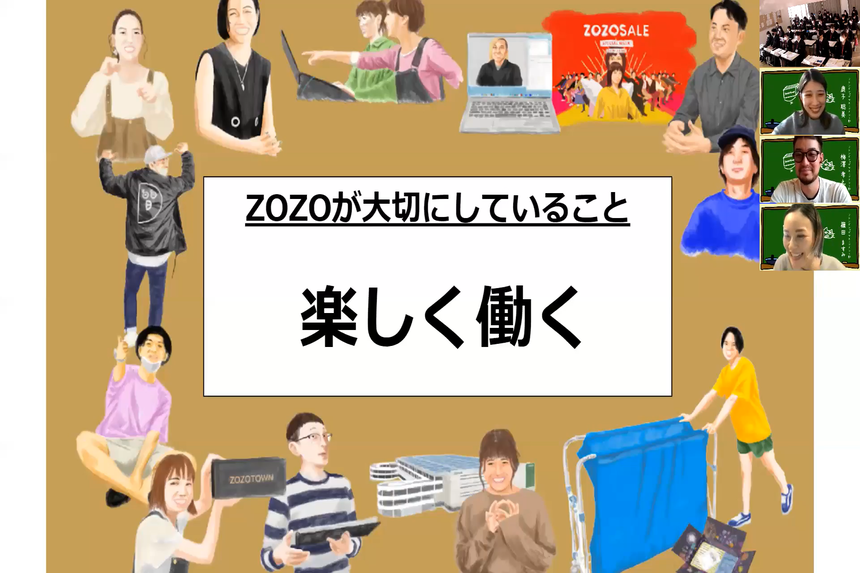 October 25, 2021
On-Demand-Delivery Class Held at Senior High School in Chiba City
To realize our corporate philosophy of "Inspire the world. Deliver joy every day," our employees serve as instructors and give lectures on career education to schools in Chiba City. In October 2021, we held our first on-demand-delivery class at Chiba Economic Academy, an affiliated high school of Chiba Economic University.
A compulsory course in our school's business course includes practical business experience classes. As part of this class, classes were held for 120 third-year students in each class. On the day, we explained our services and the roles of each business division, our corporate philosophy, and the culture of "work with fun" that takes root in us.
This time it was a Covid-19, and it was the first time for us to attend an on-line class, but we devised ways to communicate as much as we do face-to-face, such as using familiar illustrations and giving quizzes.
The students who attended the classes commented, "I wanted to pursue the coolness of the interior," "I felt that I wanted to work in a warm company like Mr. ZOZO," and "I heard the attitude of supporting each employee without crushing his or her suggestions and possibilities."
We will continue to support young people who will lead the future by giving on-site classes at many schools that convey the joy of work (*) and their fulfillment.
Date of Implementation
Monday, October 25, Tuesday, 26, and Thursday, 28, 2021
(*) The word "work" is ordinarily spelled as 仕事 (shi-goto), using a character 仕 (shi) represents "serving" by its literal meaning. Instead, we use a character 自 (shi) which is pronounced in a same way but represents "self (natural)" by its literal meaning. This implies we are not serving to someone or forced to work, but are working naturally and spontaneously.