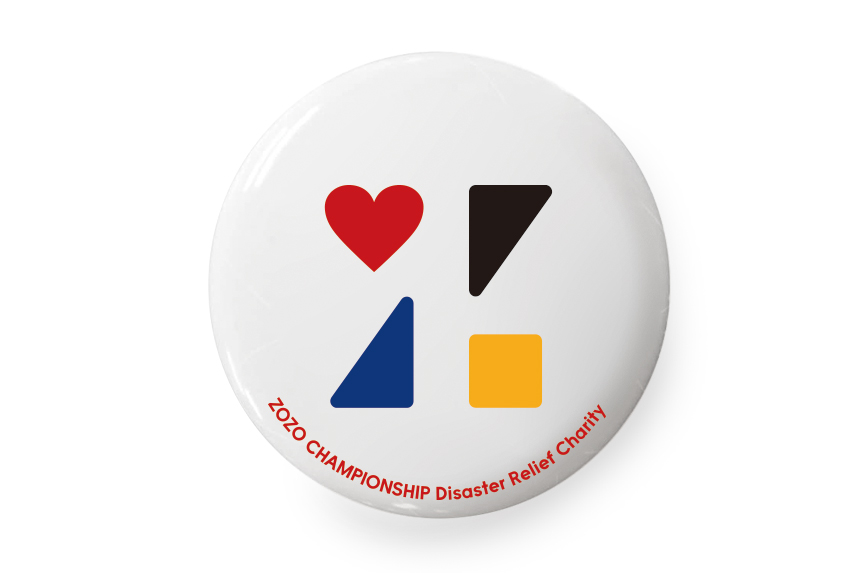 October 24, 2019
Support for disaster-stricken areas with the 19th typhoon in the first year of the Reiwa Era and production of the "Reconstruction Support Can Badge presented by ZOZO CHAMPIONSHIP."
Implementation Period (Sales Start)
Thursday, October 24, 2019
Overview
In response to the devastating damage caused by Typhoon No. 19 in the first year of the Reiwa era, we created the "Reconstruction Assistance Can Badge presented by ZOZO CHAMPIONSHIP" to support the affected areas. The charity badges we produced were not only sold in ZOZOTOWN, but were also sold at the official store in the PGA TOUR tournament "ZOZO CHAMPIONSHIP" venue, where we sponsored the event. We donated a total of 27,392,603 yen to the Japanese Red Cross Society as reconstruction support, including the full amount of badge sales and the amount collected through donations at the event venue.
Intention
The design of the badges we created this time was based on ZOZO logos that express the various colors and forms of each person's various personalities. At the same time, the parts of the circle were transformed into hearts, and the idea was that "a world in which hearts are born in a variety of personalities and smiles are spreading." In addition, with the desire to widen the circle of support widely, more than 70 athletes, including Tiger Woods players, wore badges at ZOZO CHAMPIONSHIP, the world's most famous golf tournament aired around the world, and we were able to deliver ale to the affected areas together with the athletes. I would like to express my sincere gratitude for the warm support extended by many of you, and I sincerely pray that everyone affected by this typhoon will be able to return to a peaceful life as soon as possible.