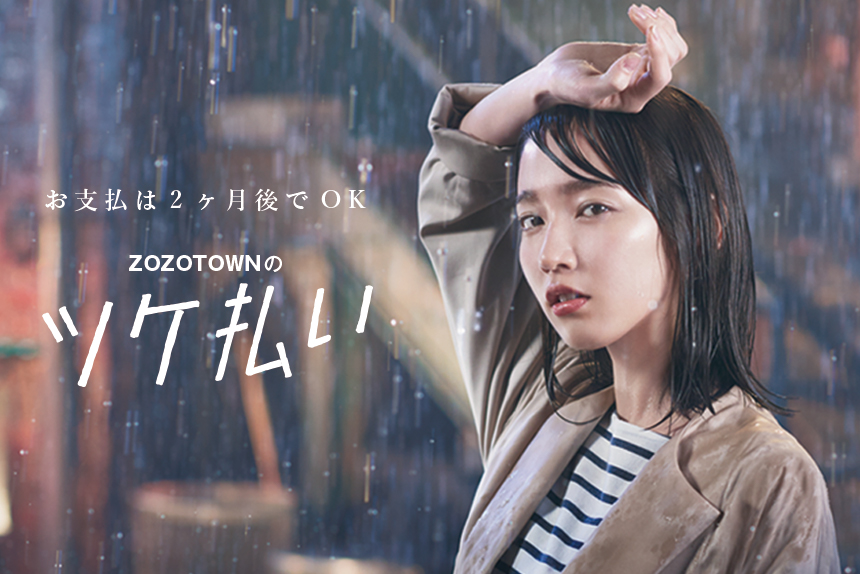 March 17, 2017
Press Release
The trendy actress stars in the second "Tsukebarai"* payment service TV commercial.
The online fashion website "ZOZOTOWN" (http://zozo.jp/) operated by Start Today Co., Ltd. (CEO Yusaku Maezawa, Headquarters in Chiba city) will air its "Tsukebarai"* payment option TV commercial all over Japan (except for some regions) from March 17th. The actress staring in the TV commercial is the talented and versatile "Riho Yoshioka". The commercial was created to entertain the viewers as if they are watching a scene of a movie.
*Tsukebarai: A unique deferred payment option offered on ZOZOTOWN. Customers are allowed to complete their payment within 2 months after they place an order. This payment service launched in November 2016.
Overview of commercial
Actress: Riho Yoshioka (*Profile listed below)
Air date: March 17th ~ March 31st, 2017
Broadcasting area: All over Japan (Except for some areas).
URL regarding the Tsukebarai services: http://zozo.jp/later-payment/
*The footage of the TV commercial can be found here as well
The plot of the commercial:
The commercial was shot in the rain, were actress Riho Yoshioka gave her all in a tough shooting environment for over three hours. The studio created the city scenery of Manhattan. A new side that the public has not yet witnessed of Riho Yoshioka was captured in the TV commercial, and we hope to entertain our viewers.
Profile of Actress:
Riho Yoshioka
Born in January 15th, 1993 in Kyoto, Japan. She made her Debut in the film "Mango and the red wheel chair", and also appeared in "Maku ga Agaru" and "Akegarasu" the same year. In 2016, the actress appears in the NHK TV drama series "Asa ga kita", and other TV shows such as "Yutori desuga nanika", "Medical team: Lady da vinci no Shindan", and the play "Nice guy in New York", which increased her popularity. She is currently acting in the TV drama series "quartet", on air since January 2017.
All media related readers:
Please contact us regarding any inquiries.
Start Today Co., Ltd.
Contact PR from here