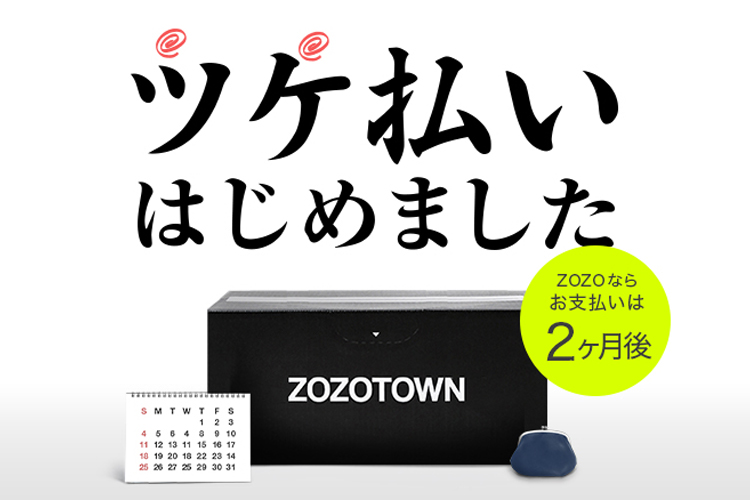 November 1, 2016
Introducing a new payment method on ZOZOTOWN, "Tsukebarai" – A new deferred payment option of an extension up to 2 months.
The online fashion website "ZOZOTOWN" (http://zozo.jp/) operated by Start Today Co., Ltd. (CEO Yusaku Maezawa, Headquarters in Chiba city) will launch its new payment service on November 1st, called "Tsukebarai", where ZOZOTOWN customers can extend the payments of their orders up to two months. In comparison to your regular shopping payment, there is more time until the payment is complete, therefore customers can worry less about their current financial conditions and enjoy shopping on ZOZOTOWN.
This payment method will also allow customers to confirm their actual orders before completing their payment, which will hopefully create a safe and welcoming shopping environment for first time ZOZOTOWN users. Moreover, the payment method can be selected from either a convenient store payment method, bank transfer or credit card. By offering a variation of payment methods, we hope to be helpful to customers who dislike credit card payment options, and younger customers without credit cards.
ZOZOTOWN is eager to expand its services to more customers, and to provide the best customer experience to all customers.
Overview of ZOZOTOWN "Tsukebarai" service
Launch date: November 1st, Tuesday, 11 AM
URL: http://zozo.jp/later-payment/
Target users: All customer registered to ZOZOTOWN (Except for guest users).
Target Products: All products offered on ZOZOTOWN (Except pre-order items and gift wrapping services)
Limited purchase amount of Tsukebarai: 54,000 yen (Tax included)
How to use Tsukebarai:
Please select "Tsukebarai" from the payment option of your order.
After your order has been delivered to you, a bill (bank transfer slip) will be sent to you in the mail.
Please complete your payment by the deadline listed on the bill, at either a convenient store or at a bank. (Please use the bank transfer slip sent to you)
Due date of payment: Up to two months from the timing of your order. (Ex: If you place an order on November 1st 2016, please complete your payment by January 1st 2017).
Handling fee: 324 yen (Tax included, per order)
Payment Option: At all registered convenient stores and banks (Customers will be charged handling fees in case of bank transfer payments).
Service providing company: GMO payment service corporation (http://www.gmo-ps.com/)
All media / press related readers:
Please contact us below if there are any requests of images etc.,
Start Today Co., Ltd.
Contact PR from here