October 13, 2016
Press Release
Designing uniforms for the Juventus legends charity match
ZOZOTOWN designer Atsushi Sato designed the uniform for the "Juventus legends charity match" soccer game held on November 5th. This is a charity match between the OBs of the Italian soccer league "Juventus Legends", and the Japanese soccer team created by the OBs, "Japan Legends". The charity is for supporting victims of the Kumamoto earthquake which happened in April 2016, as well as the Earthquake in the middle of Italy, which happened in August.
The uniforms will be available for the public to purchase, however, the number of uniforms will be limited. Purchases will be available at the stadium stand of the day of the match.
Uniform for field players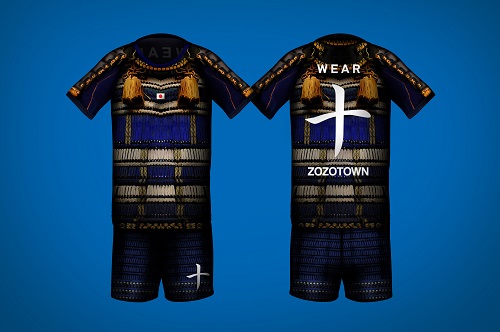 Uniform for goal keeper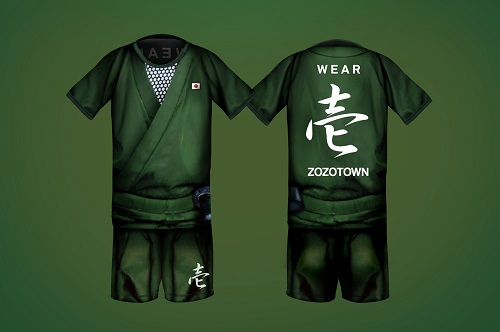 About the designs:
The uniform designs are inspired by the Japanese Samurai and Ninja, in coordination to the team name "Japan Legends". The image of the filed players' uniforms are armors of Samurai's outfits, expressed in the blue fabric with texture, and details to the seam. The image of the goal keepers' uniforms are Ninja's Kimono, with a motif of a Katana (sword) around the waist. The kanji, "Wa" on the back stands for "peace" and "harmony".
Prices:
Shirt only: 15,000 yen (tax included), limit of 300 pieces
Shirts and pants: special set price 16,000 yen, limit of 200 sets
Sizes available: M, L, XL
Overview of game :
Name of game / match: "Nichii kokkou 150th anniversary Juventus legends charity match"
Date of match: November 5th 2016, Saturday, Kick-off a 2 PM.
Location: Shoudashouyu Stadium Gunma
Match: Juventus Legends VS Japan Legends
Official website: http://ima-gunma.com/
Expected OB players:
<Japan Legends> Masahiro Fukuda, Yasuto Honda, Yutaka Akita, Nobuyuki Kojima, Takashi Mizunuma (coach), Atsuhiro Miura, Keita Suzuki, Takayuki Suzuki, etc.,
<Juventus Legends>Fabrizio Ravanelli, Salvatore Schillaci, David Trézéguet, etc.,
(There is no specific meaning to the order)
All media / press related readers:
Please contact us below if there are any requests of images etc.
Start Today Co., Ltd.
Contact PR from here