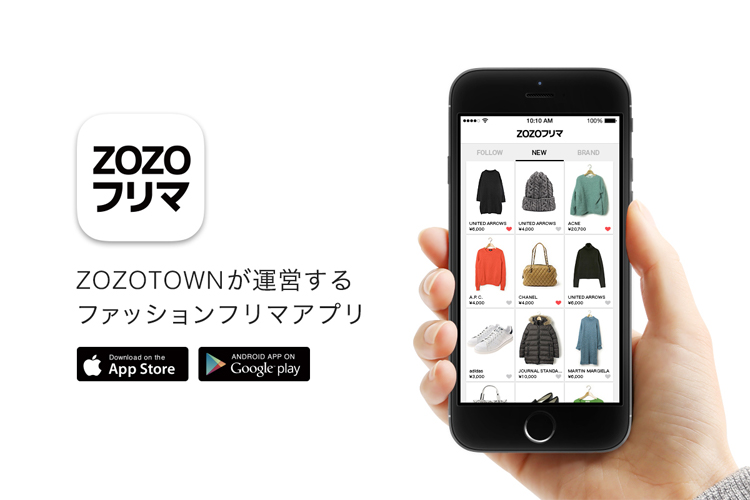 December 15, 2015
"ZOZO Furima", a fashion flea market App will launch today.
Start Today will launch its flea market service app "ZOZO FURIMA" today, December 15th, 2015. ZOZO Furima is a newly launched business which applies Start Today's EC management knowledge, as well as the product database of fashion styling app "WEAR". ZOZO Furima will be operated by Start Today's group company, Bracket, Inc.
The items listed on ZOZO Furima will not only appear on the ZOZO Furima network, but will also be introduced on ZOZOTOWN as flea items. (*1) In addition, there is no need to photograph the items or input item details, since customers can reuse their pictures and item information from ZOZOTOWN and WEAR. Moreover, by connecting the IDs of both services, customers will be able to select the items they would like to sell from their ZOZOTOWN purchase history or their WEAR closet (*2), which is a new and convenient service in the flea market industry. All business transactions between customers, which will involve personal information and payments will be taken care by Start Today. By introducing new and convenient services, Start Today hopes to provide a helpful and effortless shopping environment to our customers.
*1: The trade-in and business transactions of items will be handled on "ZOZO Furima", not "ZOZOTOWN".
*2: The WEAR closet is a function where customer can save their previous styling ideas, and items they have purchased on ZOZOTOWN.
Ever since internet shopping has become a familiar concept to consumers, in addition to the fact that secondary / vintage clothing has become more accepted by consumers, the flea market industry, as well as the secondary fashion market is growing rapidly. Our secondary fashion market "ZOZOUSED"(*3), which provides selected brand-named vintage products, and ZOZOUSED's trade-in services has also been successful, increasing its profit by 94.5% (comparison of previous year). Start Today is hoping to strengthen its secondary distribution industry, as well as improving its item line-up on ZOZOTOWN in order to attract more users.
*3: ZOZOUSED is owned by Crown Jewel.inc
About the fashion flea market app "ZOZO Furima"
ZOZO Furima is a fashion flea market app where users can easily sell their items, without having to photograph or input detailed information of their items. This is possible due to the tie-up with "ZOZOTOWN" and "WEAR", since customers can directly select the items they would like to sell from their purchase history on ZOZOTOWN, or their WEAR closet. This is a new and original function, only provided on ZOZO Furima.
Name of service: ZOZO Furima
Launch date: December 15th, 2015
Price of app: Provided for free
Compatible device model: iOS(Anything above iOS 8.0. Both available on iPhone and iPod touch), Android (above version 4.0.2)
URL: https://zozo-f.jp
All media related readers:
Please contact us regarding any inquiries.
Start Today Co., Ltd.
Contact PR from here