Value Creation History
Becoming a Fashion Tech Company with "Imagine the unexpected. Chart the unexplored"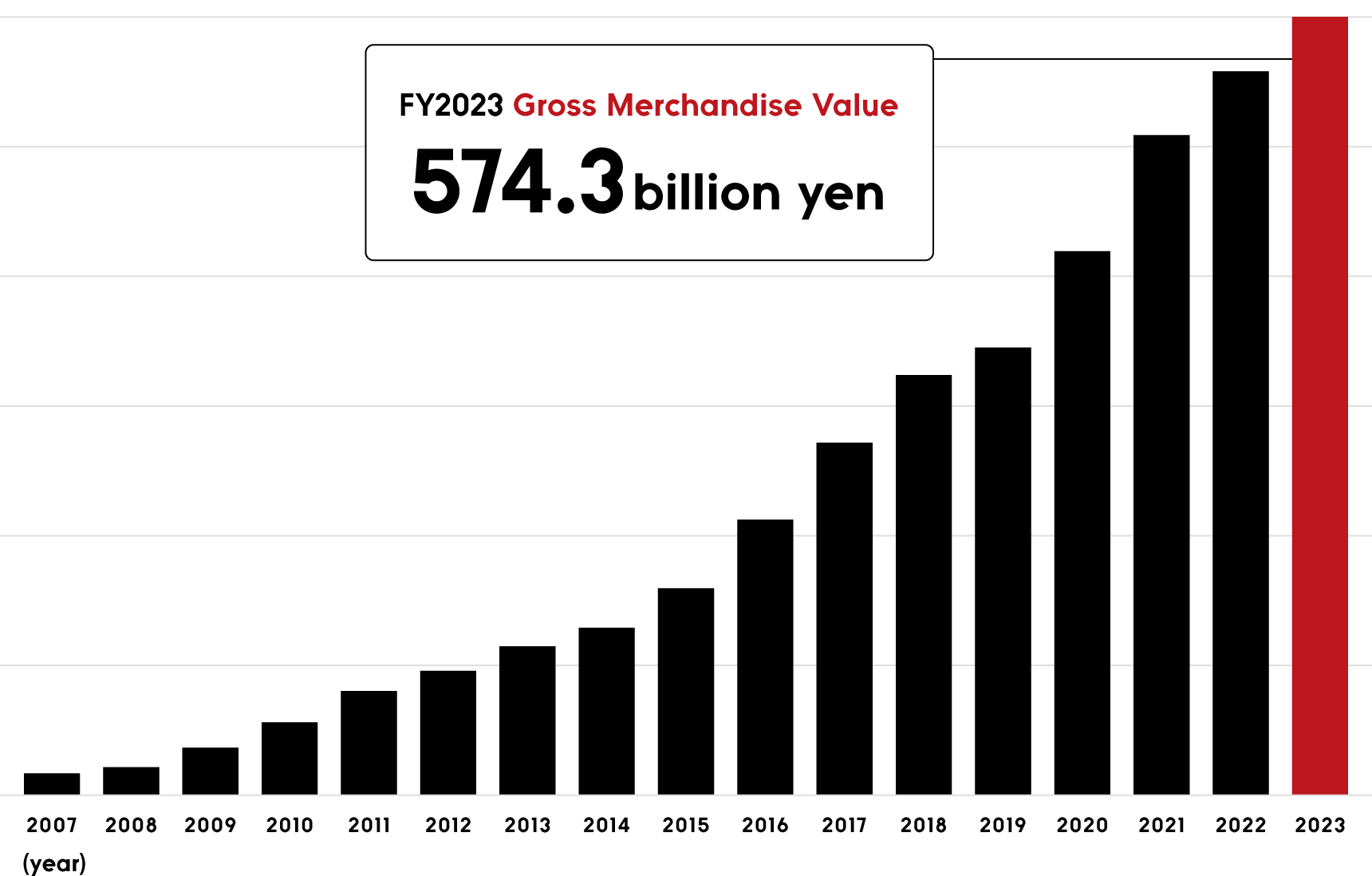 2004 /
Launched
ZOZOTOWN

2007 /
The company is listed on the Tokyo Stock Exchange Mothers.

2012 /
Launched
ZOZOUSED

2013 /
Launched
WEAR

2017 /
Launched
measurement
services

2018 /
Renamed the name of company from "Start Today Co., Ltd." to "ZOZO, Inc."

2019 /
Capital and Business Alliance with Z Holdings Corporation

2021 /
Launched ZOZOCOSME and ZOZOVILLA
Launched e-commerce business (since 2000)
In 1998, the company began operations as Start Today Ltd. In 2000, we started an Internet-based website for importing and selling CDs and records called STMonline (*1). In 2004, we began operating ZOZOTOWN, a fashion e-commerce site focused on apparel merchandise. Currently, the number of shops we handle is more than 1,500, and over 10 million people per year (*2) customers use it. At ZOZOTOWN, we are developing a variety of original services, including ZOZOSHOES, a platform exclusively dedicated to footwear, ZOZOCOSME, a new platform dedicated to the beauty and cosmetic category, and ZOZOUSED, which handles second hand / vintage apparel.
*1 Import and sales business of CDs and records is ended in Sep. 2006
*2 Total number of active members and guest purchasers purchased at least once between April 1, 2021 and March 31, 2022
Launched measurement services (since 2017)
We have developed and offered measurement tools such as ZOZOSUIT for 3D body measuring, ZOZOMAT, a 3D foot scanning solution, and ZOZOGLASS, a skin tone capturing system, as technologies to eliminate concerns about size when shopping on the Internet. These measurement tools are used by a large number of customers, including the previous ZOZOSUIT (*) 2 million, ZOZOMAT 2.1 million, and ZOZOGLASS 1.2 million.
In addition, we have been recruiting partner companies to co-create new services, as well as using the developed measurement technologies not only in our own services. In addition, since last year we have been licensing and selling measurement technologies, and we are considering a variety of uses without distinction of industry or location.
* Announced in 2017, now terminated services
Materiality
Identification of Materiality
We routinely gather expectations, requests and opinions from our important stakeholders. Expectations from our service users and clients, among other things, are gathered through questionnaires and interviews, and expectations from existing shareholders and other investors are also gathered through shareholder meetings, engagement meetings, and evaluation data to us. We also strive to understand the expectations of industry groups and NGOs through meetings and interviews. With reference to the expectations and demands of each of these stakeholders and the demands of society, such as the major ESG evaluation items, we discussed and examined them from the viewpoint of the characteristics of our group and the contribution to the growth of our group, and identified materiality items that are of high importance to both stakeholders and us.
* Materiality is discussed by SDGs Promotion Committee and approved in the Board of Directors on March 14, 2022.
Materiality Map
Sustainability Four Key Actions
Sustainability Four Key Actions
We have formulated four key actions to realize our Sustainability Statement, "Fashion Connects and Leads us to a Sustainable Future.," and to solve 19 materiality items.
1

Highlight sustainable fashion choices to improve users' experience

By sharing information, such as the sustainability criteria and production background of a particular garment, ZOZO will provide its customers with better opportunities to purchase sustainable products and services that are human rights and environmentally friendly.

2

Create a made-to-order platform for zero waste

ZOZO will build a made-to-order production platform that dramatically reduces waste by avoiding mass production and mass disposal. This manufacturing system will utilize proprietary measurement technologies and various data inputs.

3

Promote diversity, equity & inclusion among everyone involved in fashion

ZOZO will actively disseminate information and take initiatives that contribute to creating a society where everyone involved in fashion can fulfill their potential. This includes ZOZO's own employees, those leading the fashion industry as well as its next-generation, minorities, apparel manufacturers, people affected by pollution, and, of course, its customers.

4

Contribute to sustainable community development

By combining fashion and technology, ZOZO will work with its stakeholders to solve environmental and social issues in each region and community, and it will contribute to the revitalization and sustainability of various regions.
* We are committed to achieving the goals outlined in our Sustainability Four Key Actions by 2030.
Four Key Actions and Materiality
We have committed to promote four key actions and initiatives to solve materiality items to enhance sustainable growth as a company and to solve environmental and social issues.

Stakeholder Interviews
We Interviewed the Persons Who Support Us
URBAN RESEARCH Co.,Ltd.
Operating officer
Digital Business Division
General manager

SAITO Satoru

We have had a long relationship with ZOZO, and since "ZOZOTOWN" was still a virtual town filled and aligned with virtual stores. We have been "buddies" from the early days in business for more than a decade, but I am particularly impressed with "Urban Galaxy", a collaborative project between Urban Research and "ZOZOTOWN", which we hijacked "ZOZOTOWN" throughout the website to promote our items. I think ZOZO's strengths lie in not only its innovative creativity, but imagination closely aligns with the feelings of customers and clients.
I believe that ZOZO, who has been making surprising efforts in the past, will continue to make bold approaches to make a breath of fresh air for industries. We, Urban Research is currently working to realize a sustainable world under the slogan "3C" (*1). In order to revitalize local communities, we are working on SDGs in fashion point of view, such as producing "fisherman wear" with a group of young fishermen in Ishinomaki City, Miyagi Prefecture, (*2) and a project "commpost" (*3), which upcycles clothing waste in cooperation with different industries. In these categories - sustainability, we expect ZOZO would make a hit, and are more than happy to make a challenging effort together, as we did for "Urban Galaxy." Many people would start moving with the goal set by ZOZO as a beacon. Let us actively promote SDGs as a world citizen.

*1 "3C": Urban Research's Basic SDGs Policy
*2 JAPAN MADE PROJECT "TOHOKU": A local community project aimed for "regional revitalization," reexploring the beauty of the land is rethinked and disseminated together with local communities created by companies and creators in various regions of Japan and us.
*3 "commpost": A sustainable material product brand born from the enthusiasm of showing people a new mindset towards the global environment and how people work and live in the future.

YAMATO TRANSPORT Co., Ltd.
Responsible for overseeing EC Business
Fulfillment Service Department
Department Manager

NAKANISHI Suguru

We have challenged ourselves to take on innovative initiatives with ZOZO not only once, but several times. For example, we worked together from the development stage for "pick up outside home" service, which has become ordinary now. We have managed to offer even more functional and convenient user-experience as such you are now able to receive parcels at convenience stores, by reflecting the requests, issues and its solutions we found out through the whole process. Currently, we deliver not only conveniently, but also safely by improving security measures, such as employing two-dimensional coding of personal information printed on the delivery slips.
Throwing back to the past, we have always overcome obstacles for new challenges with ZOZO but what remains particularly impressive is the launch of the "EAZY(*)" package drop service. Although there was a rapid increase in demand for non-face-to-face shipping as a result of the Covid-19, we also had some concerns about launching this service as we leave or drop the parcels outside but ZOZO did not hesitate, to challenge and give it a try. We would very much like to keep working closely with ZOZO even moving forward, for more new challenges including SDGs-related projects. We are committed to taking into account the global environment, while enhancing the convenience and functions of e-commerce . For instance, we will look at new delivery methods with a solution to cardboard wastes after deliveries. With ZOZO, we would be able to make an impact and influence not only on the transportation industry, but also on the EC industry as a whole. We are proud, and excited to take on challenges together.

* "EAZY" is a service that enables customers to select from multiple ways of shipping options at their convenience, for orders from shops including online that are supported by Yamato Transport. Parcels can be delivered as handing over, or placed in front doors inside gas meter boxes, at car garages, or other locations on their own premises, and will be delivered in a non-face-to-face manner.

Mayor of Chiba City

KAMIYA Shunichi

I was assigned to Chiba City in 2013, eight years ago. Since that time, ZOZO has been headquartered in the city and in the forefront of fashion companies across the country. I was impressed by their corporate culture,an attitude to always challenge unconventionally without being constrained by stereotypes.ZOZO has always been behind the changes of the city, and placing great importance on the region, while expanding their business ZOZO introduced the Chiba Allowance, which provides allowances to employees living in Chiba City, which helps revitalize the local community and create a community where people live close to their office. ZOZO also sponsored the Makuhari Beach Fireworks Festa organized by Chiba City, and acquired the naming rights of Chiba Marine Stadium. These are only a few of their prominent achievements but we appreciate them helping to create a city where citizens are proud to live in.
ZOZO is one of the first companies stepped in making contributions to community, and we have taken various measures to follow them. Moreover, ZOZO conducts ingeneous efforts to achieve SDGs through their business and stands out in their commitment to building new standards of sustainable business. I expect that ZOZO will be a leading company to create a sustainable community, as a company that loves, and loved by the local communities of Chiba.

https://www.city.chiba.jp/somu/shichokoshitsu/kokusai/portal-en.html
We Interviewed our Employees about KFour ey Actions
EC Promotion Division

AKIYAMA Moe

Better Opportunities for the Customers to Select Sustainable Products

Many of the clothes we wear contain microfiber that leads to environmental pollution, but I think many people would not be so aware of this fact. In addition, consumers only have limited choice as there are relatively few clothes made with environment-friendly materials. To help resolve these issues, we aim to create a sales platform that provides our customers an opportunity to opt for sustainable products on ZOZOTOWN. First, we began introducing ethical products, and released pages with content where you are able to learn about issues in the fashion industry. ZOZOTOWN offers a new customer experience through which you can freely select fashions as if you make a choice for organic foods at supermarkets.

Four Key Actions 1

"Highlight Sustainable Fashion Choices to Improve Users' Experience"

Production Platform Division

KUWAYAMA Akinori

A New Production Platform Aiming "Zero Waste" Future

We state in our corporate philosophy that "Inspire the world. Deliver joy every day." For a long time in the fashion industry, the issue of mass production and mass disposal has been problematic, but it is also our "inspiration" to make every effort to resolve this issue.
Currently, we are developing a new made-to-order production platform in anticipation of the world of "zero waste." We aim to create a fashion industry that makes customers, brands, and the planet smile by spreading globally the "MAKE FOR YOU", which is a production method using our vast amount of data and original measurement technologies to produce products that meet customers' orders. We are committed to digitize fashion production, to realize a sustainable world.

Four Key Actions 2

"Create a Made-To-Order Platform for Zero Waste"

HR Division

ICHIKAWA Misato

Pursuing "Work with Fun" to Respect Individuality

We have been committed to creating a workplace where all employees can demonstrate their potential. "Work with fun" has been rooted in us as our culture, and everyone pursues "how I think of the joy." What is required of us in the future is the realization of a world in which all people involved in fashion can demonstrate their potential. First, we are promoting awareness-raising and institutional designs for employees so that they can respect and cooperate with a diverse range of lifestyles. The mission of our department (*) is to create a community in which individuality is respected, while at the same time supporting diverse work styles.

* The word "work" is ordinarily spelled as 仕事 (shi-goto), using a character 仕 (shi) represents "serving" by its literal meaning. Instead, we use a character 自 (shi) which is pronounced in a same way but represents "self (natural)" by its literal meaning. This implies we are not serving to someone or forced to work, but are working naturally and
spontaneously.

Four Key Actions 3

"Promote diversity, equity & inclusion among everyone involved in fashion"

Friendship Management Division

UMEZAWA Takayuki

Building Relationships as "Friends" with Stakeholders

We have a department called "Friendship Management," which was established for the purpose of "building a relationship of trust like a friend." In particular, building an intimate relationship with local communities is one of the initiatives we are focusing on. As a part of this concept, the first floor of our head office has been glass-walled and this has been derived from our desire to create a connection between the local community and us by showing how our employees work. In addition, we are implementing a variety of initiatives, such as On-Demand-Delivery Class (*) at local schools. Collaboration between local communities and companies should create original colors and lead to the realization of a sustainable region. Through these initiatives, we hope to contribute to the realization of a sustainable community.

* On-Demand-Delivery Class: Support for the development of the next generation sponsored by the Chiba City Education Board. Our employees serve as instructors and hold classes at local schools in Chiba City.

Four Key Actions 4

"Contribute to Sustainable Community Development"

Fulfillment Division

Yui Ito

"ZOZOBASE" where everyone can smile

ZOZOBASE logistics center is the base to which the largest numbers of staff is working at, and employs a diverse range of staff, including age, nationality, and gender. Our mission is "Smile Delivery," and the entire staff are working together to enable smile delivery to all parties involved, including customers and business partners. In our daily operations, we are working on safety management in the warehouse and the prevention of personal information leaks. In addition, we are making efforts to change to environmentally friendly packaging materials and eliminate the loss of discarded products. "ZOZOBASE" also aims to create environments where everyone can work with a smile, conscious of people's connections. Not only improving the working environment and introducing an education system, but also we intend to deepen communications with companies and residents in the surrounding communities, thereby contributing to solving the issues faced by our local communities and revitalizing them.

Four Key Actions 3

"Promote diversity, equity & inclusion among everyone involved in fashion"

Four Key Actions 4

"Contribute to Sustainable Community Development"
Financial Highlights
Gross Merchandise Value

Net sales

Operating Profit

ROE

Dividend Payout Ratio